Metal Art Creations - Handcrafted Metal Fabrications including Lamps, Sculptures, Architectural Accents and other Creations
- all Designed for Life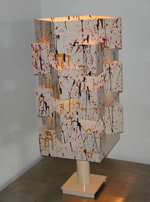 Industrial Sheet Metal has been a premiere metal fabricator for over 25 years! Gary and Dianne Galvagni started Industrial Sheet Metal in a small building in 1981. Nestled in the foothills of the artistic community of Northampton, Massachusetts, Industrial Sheet Metal continues to grow it's reputation as one of the premiere metal fabricators in Western Massachusetts! Industrial Sheet Metal was formed to provide a service to the manufacturing and industrial trades - hence our name Industrial Sheet Metal.

Our renowned metal fabrication business continues

to evolve and expand. We serve a diverse group of clients with different metal fabrication needs.

Our clients are varied and include industrial manufacturers and contractors who require industrial metal fabrications for industrial or construction applications. We also have our sophisticated individual clients who wish to capitalize on our more artistic, handcrafted and creative metal fabrications for the home and office.

Our sheet metal fabrication business is expanding and diversifying. Our core focus of industrial sheet metal fabrication is broadening to include architectural and artistic metal fabrications. Industrial Sheet Metal will begin to concentrate on custom and corporate metal art creations while continuing to serve our base.

We look forward to serving our new and future clients who desire "one of a kind" metal art pieces for a fashionable home or corporate environment!